Regular price
Sale price
$62.00 USD
Unit price
per
Sale
Sold out
(Each variation of this product will be discontinued while supplies last.)
(*This product will be discontinued as soon as stock is gone.)
(*Please enter your desired number (A~) in the remarks column when purchasing. If you do not fill it in, we will select it for you.)


This is a cutting board produced from a piece of work.

( Please see the bottom of the page for details about end grain cutting boards.)
(This is a wooden tray made from a piece of wood.)
(This product can be optionally equipped with legs for the cutting board (500 yen ).
( If you would like to order this item, pleasespecify the quantity as 1 and place your order fromthis page.)
(The wood is made from a rare piece called "spotted" wood, which has a characteristic black stripe pattern.)






(Wood that has been buried in the ground for a long time is partially carbonized, and black stripes appear in the grain of the wood.)
(A word of appeal if you have it)
(The groove processing around the board catches small pieces of juice or foodstuff and prevents them from spilling out of the board.)
(
●Colored resin finish is applied to the original cracks in the wood.
(The wood has been resin-coated in the color of the original cracks, which is not a problem for use.)
No coloring agents are used. The natural color of the wood comes out.
(Usually, most cutting boards are less than 2.0 cm thick, but this product is thicker at (2.5 cm~) cm.)
(The hole of ●.0cm is drilled in the handle part, so it is convenient to hang it directly on an S-shaped hook or by tying a string to it.)
(Handles are processed on both sides.)
(Iron handles are attached on both sides.)
(This product has a small saucer.)
(This product has a small saucer.) In addition, the ● side is stamped with an engraving.
商品サイズ/送料計算重量

長さ約31cm 幅約23cm 厚さ約1.5cm 穴径約1.5cm

送料計算重量1000g
商品のお取り扱い方法について

※カサカサとしてきた時は蜜蝋ワックスでのメンテナンスを推奨しております。
当店のカッティングボードワックスは、カッティングボード専用に作られたものなので、おすすめです。

※切れ味の落ちた刃物は食材をカットする時に木を抉るように擦ってしまう為、切れ味のある刃物よりも木に深い傷が入ってしまいますのでご注意ください。可能ならば切れ味の落ちていない刃物をご使用ください。

※太陽光のもとに晒しておくと、木の性質上徐々に飴色に変色していく可能性がございますので、ご注意ください。

※レジンカッティングボードの耐熱温度は100℃です。それ以上の温度の物が触れると白く変色する可能性がございますので、その範囲内でのご使用をお願い申し上げます。

※この商品は天然木です。場合によっては時間の経過でどうしても反りが発生してしまう可能性がございますのでご了承ください。

※洗った後はカビの発生を抑える為になるべく水気をふき取り、通気性の良いところで乾燥させてください。
View full details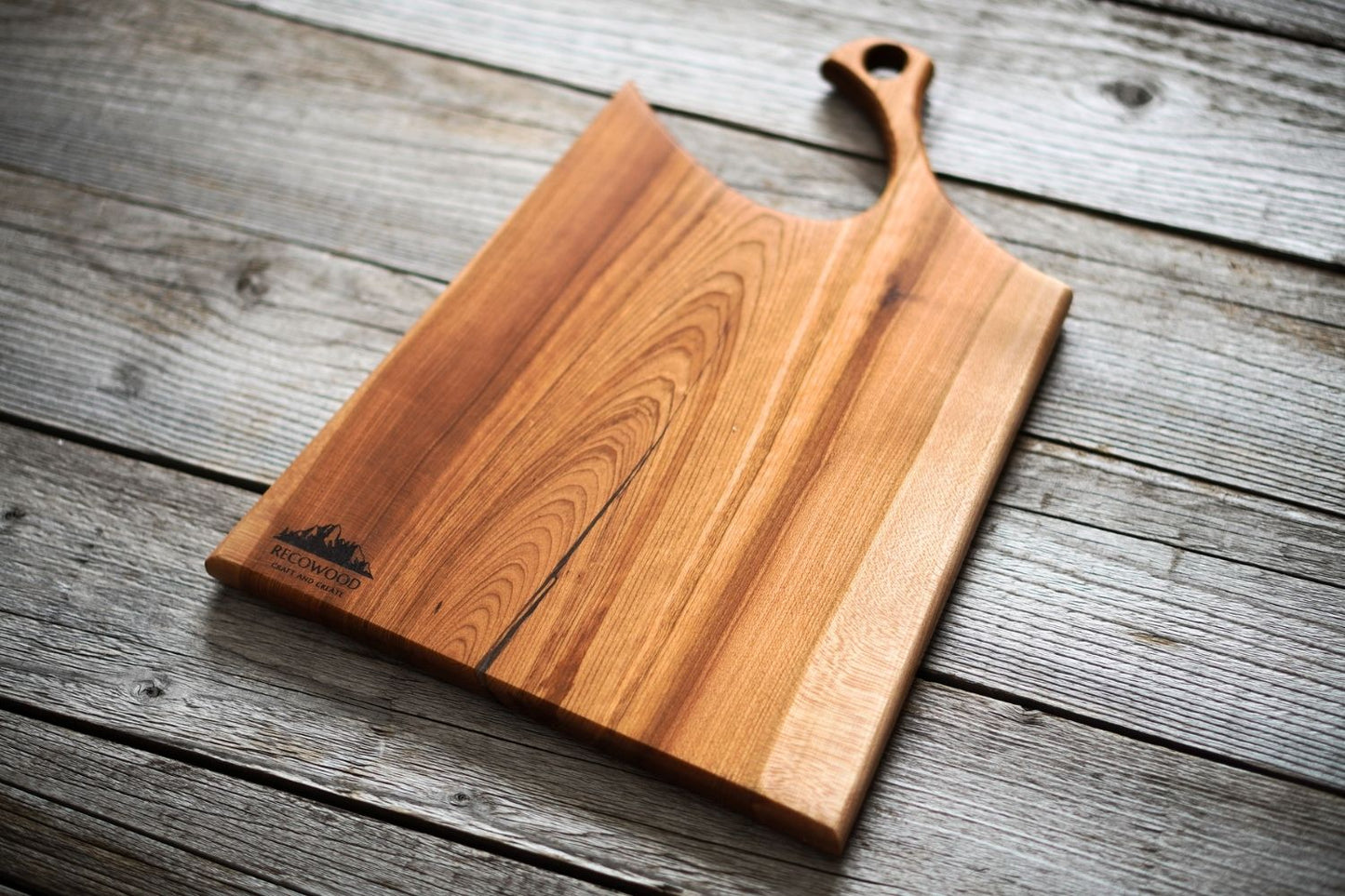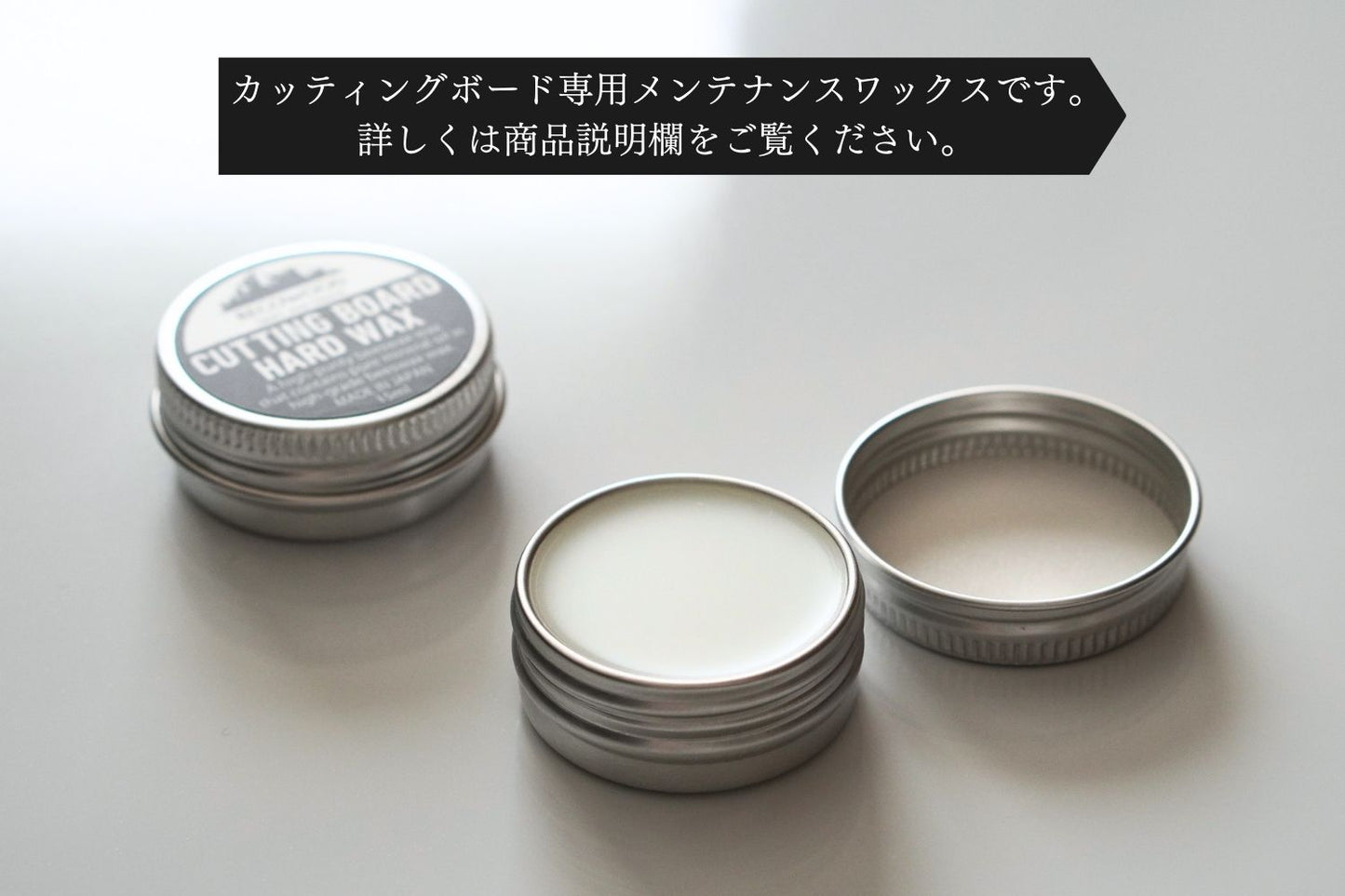 About Us New Cutting Board
新しく導入した仕上げ方法により、従来のものより優れた撥水力と耐久性を実現しています。
そしてニスとは違い、無垢材本来の温かな質感をお楽しみいただけます。
耐水性が高く、こまめなメンテナンスは必要ありません。
また、日本の食品安全基準試験をクリアしているので、従来と同様に高い安全性を誇ります。


カッティングボードの上で食材をカットし、お皿としてそのままご利用いただけます。海外ではカッティングボードは盛り付け皿やまな板として日常的に使用されています。無垢材の温かさを感じながらのお食事はいかがでしょうか。



朝食時やランチ、ディナーにも。色とりどりの緑黄色野菜や肉料理もおすすめです。お好きな料理を添えてお楽しみください。